Stone Veneer, stick-on stone, fake stone, whatever you call it has been very popular for the last 15 years or so. We have used it on residential and commercial projects for some time now and when installed properly and carefully planned for, it can make a strong statement. We'll focus on exterior stone for this post and talk about interior wall and interior fireplace options at a later date. Also, when designing a project that calls for stone veneer, we make every effort within the overall design to make it look like real stone.

Designing with Stone Veneer:
We try to establish a desired architectural style early on when meeting with clients. So what architectural styles include stone? Here are a few: Craftsman, Bungalow, Modern, Prairie, and Ranch styles are a good fit for exterior stone. Next, where should it be located on the facade so that it looks real? Actual stone has typically been installed at the base of a building, at the base of columns, and when covering an entire facade from top to bottom. Real stone is typically "stacked" and bears on a footing at the base of a building, so the laws of gravity come in to play when using real stone. Stone begins to look fake when a facade will have say, lap siding, installed at the base of a wall and stone veneer installed above the lap siding. Obviously, if the stone were real, that couldn't happen. Also, we try to "wrap" stone veneer around a corner and terminate it at at an inside corner at a perpendicular wall. See the detail below showing a typical stone veneer chimney detail and notice how the stone veneer terminates at an inside corner. When stone stops at an outside corner and another material is installed around the corner, the actual thickness of the stone veneer is permanently on display and looks very fake.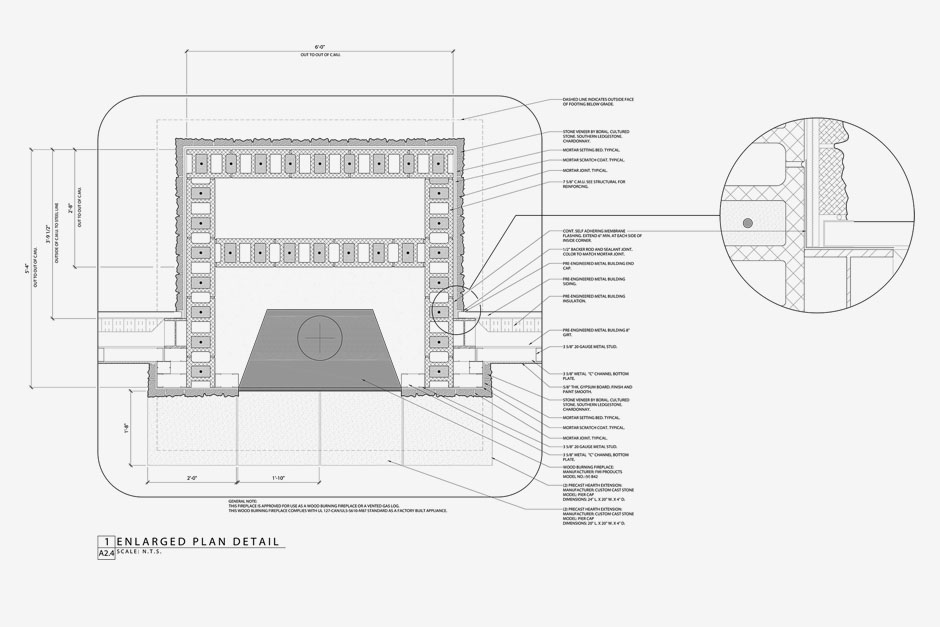 Stone veneer can be used in a variety of different ways and can enhance many architectural styles. The real key to a successful piece of architecture that includes stone veneer is to pick the right style of stone for the desired architectural style and locate it on the facade in a way that doesn't look fake. And real stone is always a great option if the budget will allow it.

Keep it real and thanks for reading.